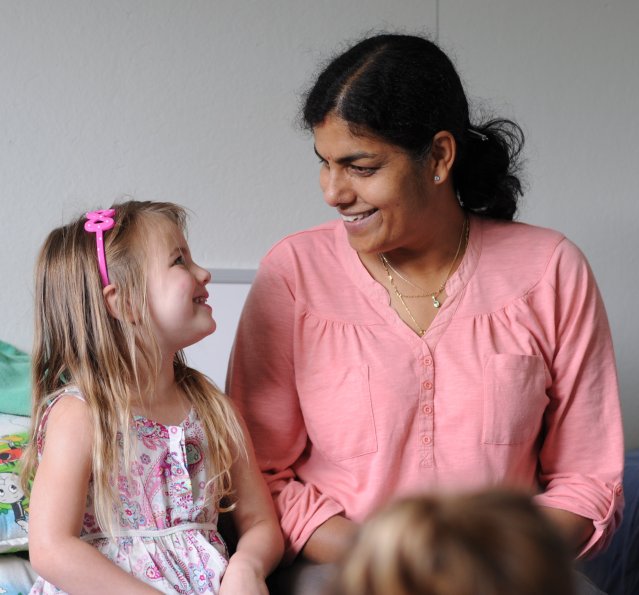 Renu
My name is Ranuka Lata Sharma, but I am known as Renu at Preschool. I am the centre manager responsible for the day to day running of preschool
I worked as a Primary Teacher in Fiji for 13 1/2 years before I moved to New Zealand. I am married and have two daughters who are both currently at University.
I completed my ECE studies while working at preschool and have been here for ten years working with big kids. I enjoy our big outdoor environment and believe that it stimulates children's learning.
---
Michelle
Kia ora, ko Michelle ahau
Hello, my name is Michelle.
I have been working in early childhood education for almost 2 years. In 2013 I completed a Bachelor in Primary Teaching and in 2015 I completed a Graduate Diploma in Early Childhood Teaching
I am extremely passionate about early childhood education and being a part of the Newstead Country Preschool team. I am also really excited to work at a Preschool that provides children with authentic learning experiences.
I consider myself a bit of an explorer so most weekends I am out and about either climbing a mountain or going on a nature walk. In my spare time I enjoy cooking and baking as well as having a go at amateur cake decorating. I also really enjoy any form of exercise, on weeknights you will find me at the gym or in a group fitness class such as; boxing or spin.
I hope to utilise my interests, skills and talents at Newstead Country Preschool to help inspire the children to become lifelong learners.
---
Aurelia
Bonjour,
My name is Aurelia. I am originally from France but I have lived in New Zealand for about 11 years now. I have two lovely girls.
I started at preschool as a relief teacher about 10 years ago and as a full time teacher over six years ago. There are no boring days here! I love our preschool philosophy and am passionate about working with your children.
---
Rose
Kia ora.
My name is Rose and I have a Bachelor of Education and a Diploma of Teaching in early childhood education from Waikato University
Prior to joining the team at Newstead Country Preschool I worked as a Kindergarten teacher for 17 years.
I enjoy working alongside children to provide a safe environment for young children to learn, where individual needs are met with understanding, patience and fairness.
I love working at NCP where we have a great team, and environment to support children's learning, independence, and development