We have a team of eight dedicated and loving teachers, with low staff turnover. Our permanent teaching staff have an average length of service of seven years.
Our registered teacher percentages are exceptional at around 95% (Ministry minimum is 50% with above 80% considered highest quality)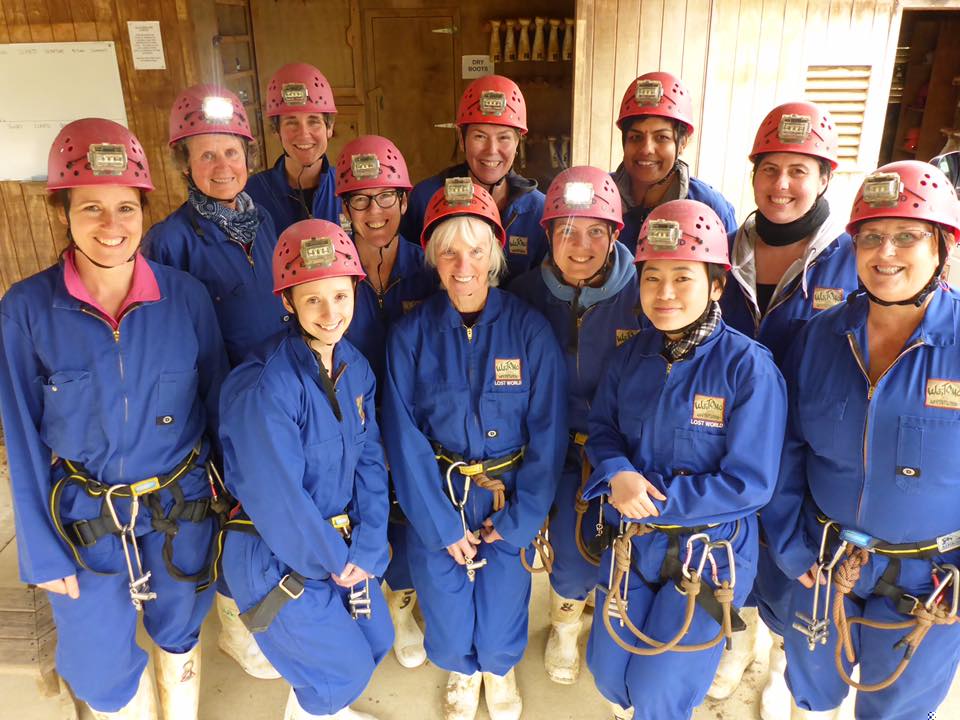 Team photo from our staff trip to Lost world at Waitomo
Mouse over the "Staff" tab above to drop down the menu to meet our amazing teachers or read below to see what our families had to say about our teaching team in our latest parent appraisal (July 2016).
Love love love the staff. Love the family atmosphere
All staff are great. Helpful and friendly. Really feel like that care about our son

The staff have always been great. We will miss dealing with them and their enthusiasm towards the children. NCP also seems to have an amazing ability to choose 'the best' students. Over the years they have all been full of enthusiasm and seem to genuinely care for our kids.

All staff are great!

All staff are fabulous – you do such an incredible job!

The staff are what make the daycare what it is, along with environment these are definitely the highlights for me. Looking forward to the return of Willeke and Chi. Wendy and Michelle have been great additions and Caroline is fantastic with the babies, will be nice if she stays with the babies.

Newstead has some awesome staff (in particular Renu, Lydia and Carol). Not just permanent staff but also the repeat relievers (Mary!) it's great how the staff interact with parents
All the staff are great… glad to see Willeke is coming back after maternity leave!

Everybody is great and I always feel like they are doing the best for my little monkey.

Monica is very caring and the children seem to have great trust in her. Nikki's smile in the morning is heart warming, the kids seem to easy connect with her friendly nature. Caroline spreads so much great energy, which rubs off even on grumpy monsters. Lydia's Hello in the morning is always welcoming.

Everyone is so nice and friendly to both our children and also our entire family. When L was little I was always offered help when I dropped/picked the children up which was so appreciated. I have asked A a few times what her favourite thing about preschool is she says the teachers!

Carol has been great teacher for our two and managed to blend quiet authority with her evident passion for helping them to learn and develop.

Caroline is fabulous and goes the extra mile All staff are very friendly and you can tell they enjoy their job

All great, always a smile and always on top of what the kids have been up to.

Everyone is amazing and friendly. I always feel welcome when I come in and it's so nice having lots of teachers come to chat every day – it doesn't feel forced. Everyone just seems really happy and engaged – again this isn't always common to find and to have so many staff that are so onto it makes it such an easy choice. Caroline is absolutely amazing, and Carol and Renu are adored by my son, but each of the teachers bring something special and unique to the place and I really value the different personality styles that the teachers have because there is the right fit for every child. It's the first centre I haven't seen catty comments or faces pulled about colleagues too – and we have used five other centres in total. So whatever you're doing, it's working! The staff morale seems really high.

Always friendly, lets me know of any issues quickly

All the staff are great and we really appreciate the love and care they offer our children.

So passionate and welcoming. Treat my children like their own.

Great team Well done.

Love the environment. One of the main reasons we chose NCP

Friendly staff. Tidy and clean. Warm. Organised. Good safe feel.