Our Preschool Philosophy is based around four essential elements:
Our unique country setting

A welcoming extended family atmosphere within the centre

Providing an well-rounded early childhood educational programme

Quality teacher/child ratios
You will see evidence of our Philosophy in action in our everyday Programme in the following ways.
COUNTRY ATMOSPHERE:
We endeavour to ensure that all children are involved in country activities on a regular basis. These include:
Rearing animals – calves, lambs, chickens

Role modelling appropriate ways to care for and interact with a variety of animals

Practical activities on the farm including pony riding and shifting stock

Role modelling respect for the environment

Regular nature/bush walks

Gardening – growing and harvesting vegetables, sunflowers
EXTENDED FAMILY ATMOSPHERE:
As a mixed age childcare centre we have a holistic, extended family approach where children are encouraged to respect and care for each other. You may well see older children helping with feeding, and caring for younger children/siblings.
We embrace a bi-cultural approach in the preschool. We acknowledge the unique place of Maori as tangata whenua. We incorporate Maori values and customs by the use of appropriate greetings, correct pronunciation of te reo Maori, especially children's names, use of music, books, tapes, puzzles and games that reflect Maori values.
We welcome families from a variety of cultures to the preschool. We endeavour to respect and incorporate the language and customs from the various cultures of our families.
Although the preschool is split into three age groups, this is flexible and children are able to break from their usual group and join another group for an activity.
Kai time is a shared event, either within age groups or with the whole preschool centre coming together to eat.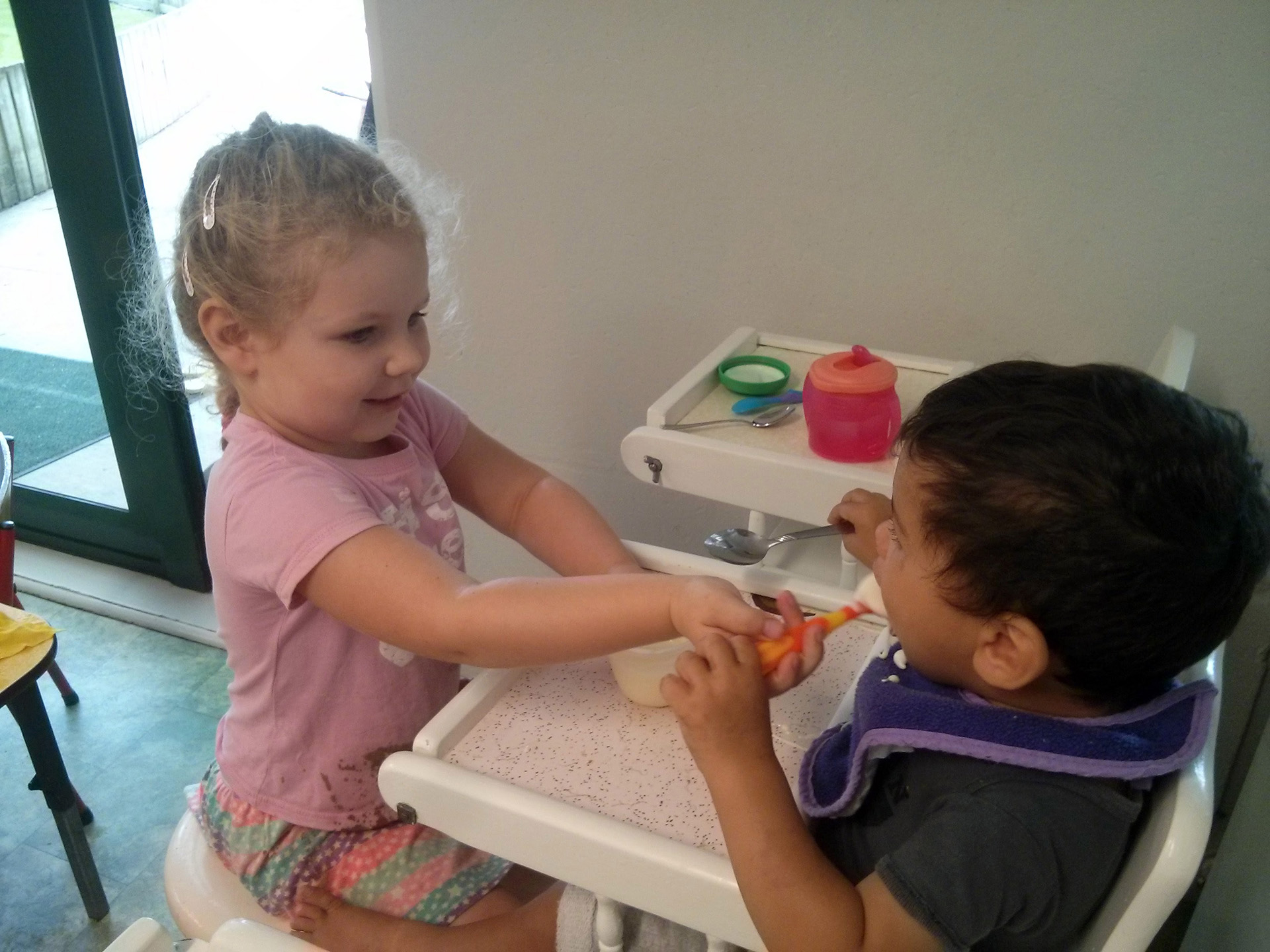 EDUCATIONAL PROGRAMME & RATIOS:
A variety of activities, both structured and free play are provided to foster the physical, intellectual, emotional and social aspects of child development. We endeavour to meet the development needs of each child building on their unique abilities, strengths and interests through a happy, secure environment.
Child initiated activities take priority and form the basis of our programme. We aim to encourage creativity through a variety of language activities, music and movement, dramatic play, art and craft and many other aspects of play.
Children feel comfortable to be able to express themselves in a happy and secure environment. Physical capabilities are strengthened by including various outdoor activities, including gardening, carpentry, walks, manipulative play and block play, swings, sandpits and a ground level trampoline.
Because of our high teacher/child ratio, children are given the opportunity and support to contribute to their own learning in order to become explorers and competent learners.
GENERAL:
We have an awareness of gender role stereotyping issues in Early Childhood and intend to provide a programme free of biases of this nature.
Children are actively encouraged to participate in all activities, use all of the equipment and be exposed to a variety of work roles.
Routines designed to keep the children safe and healthy are in place. Hand washing, sitting while eating and rest times are monitored.
The day begins with special activities set up. The timetable is built around an 8am start, 10am morning tea, 12noon lunch, 12.30pm-2pm rest time, 2.30pm afternoon tea and 5pm finish. This of course varies for the younger children and is always flexible.
IMPACT OF OUR PROGRAMME:
We believe our preschool programme to be family orientated; parents are always welcome. Our quality ratios allow staff time to talk to parents, and time to establish good relationships with all. Our times of separate age groups allow for activities specific to that age, and time together fosters a tuakana/teina environment.
We enjoy a rural setting with many benefits. We utilise the property for walks, exercise and discovery.
Staff see the benefits for the children having such an environment through their interaction between each other and the environment. The children look forward to the walks, enjoying the freedom to explore and create dramatic/fantasy play using the environment and naturally occurring tools.